Some completed things
The first thing I finished this weekend is the Little Star Afghan. I made this for my niece Martika and made it larger than the pattern called for. I didn't measure it, but it's big enough for her to cuddle up in. I used almost a total of 36 oz of Simply Soft and used a G hook. If I ever make another one, I'll use a larger hook.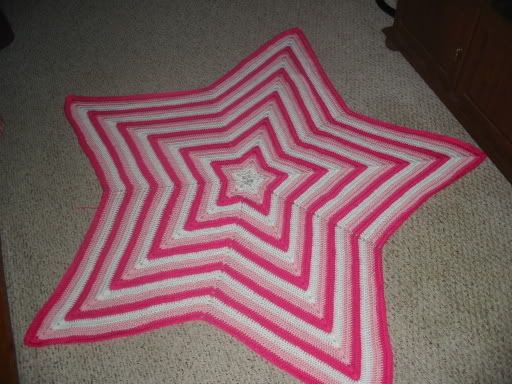 This one is the purse I made with the items I took out of the CAL Pals Mystery Box. I got the yarn and pattern booklet (In the Bag) from there and whipped this up for my other niece Sara. It was quick and I love how it turned out. The pattern called for it to be finished with Fun Fur all around and I didn't like the way that looked so I left it out. I think it looks great as is!
This last picture isn't something I made but my take in the "Dishcloth Swap" at CAL Pals. We each made as many as we wanted, sent them to Julie and she sent us the same amount back. They are all just lovely and I cannot wait to use them in my new home!