Some FO's and a new WIP!
Well, this first one isn't quite finished but close enough to show! It's Doug's American Flag afghan that he asked me to make him for Christmas. I used Caron One Pounders in Red and Blue and the white I used was some baby yarn I had on hand and I used 2 strands of the white held together to equal the same weight as the Caron. I used a size N hook so it went pretty fast. Basically, to do one stripe all the way across was about 2 hours each. I have all the stars done I just don't have them all sewn on the ghan yet. If you look you can see a few of them on there but not many. I'll finish it eventually!
This one I made for my neighbor for Christmas. It's a scrap-ghan and I made it in just a matter of days. It was a very easy pattern taken from the Lion Brand website. I cannot remember the name of the pattern but it was a very simple pattern and very easy to do. This is a little on the small side so it's a perfect lapghan. She really liked it and since she does quilting she knows how much work handmade things are. It's so nice to give someone who appreciates it a home-ade gift!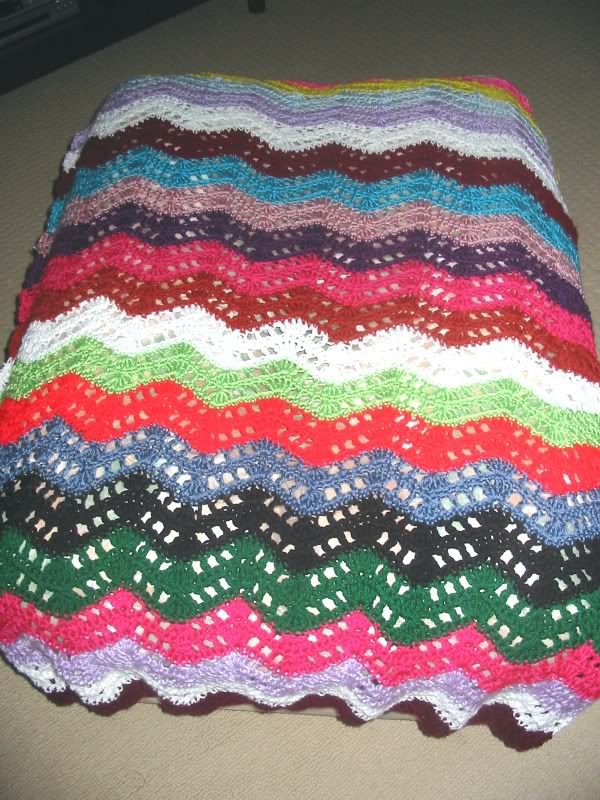 Ok, this one is my newest WIP! It's from the Groove-Along CAL over at the Ville. Julie got me this time! I've been doing good staying away from her CAL's but I just had to do this ghan! It's actually going very quickly and I've even got quite a bit more of the ghan finished since I took this picture a couple of days ago! It's made up of tiny little squares but they are all HDC's which is my fave stitch so that makes a difference! I honestly don't know if I'll give this away or keep it.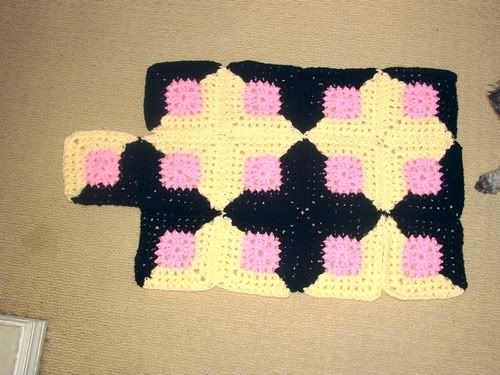 I do have a few pictures from Christmas to post I just haven't gotten around to doing that yet. We go back to work on Weds. I cannot believe break is just about over. You wait all year for a nice vacation and it's over before you blink! Poor Doug is really sick. We are hoping our Dr. will be in the office tomorrow as he really needs medical attention. I may have to taken him to the ER if they aren't in. He spent the other day cleaning out our old refrigerator before we sold it and we forgot to open the doors before turning off the power a couple of weeks ago and it was all moldy inside. I told him he needed to wear a mask or something but you know how men are. With all of his allergies and such I know he's got some kind of a horrible infection going on. I was feeling pretty bad myself yesterday but it's really not too bad today, I'm just a little under the weather. Maybe getting the flu shot helped me? I dunno... Doug didn't want it. He got really sick last year after getting it so he won't ever get another one.
Well that's about it from here. We were supposed to go over to the neighbors for New Years Eve but with Doug being so sick I don't think he'll be leaving the house. I will probably go over there for a little bit but definately won't stay too late without him. It seems like either one or the both of us are always sick on New Years Eve...
I hope you have a safe one and please remember no drinking and driving. If possible, stay home or go someplace that you can stay. It's too dangerous being on the roads with all the crazy people New Years Eve night.