My Gold Medal Porjects for the Crochet Olympics!

Well this is the "Drops Circle Jacket" that I've been wanting to make for well over a year now. It was a pain and I had several rows that I had to frog and re-do but in the end, I am extremely happy with the end result! This was made with 3 strands of thread held together and a size J hook so it worked out very nicely. I opted not to make the sleeves and didn't do the button closure since I would rather close it with a pin.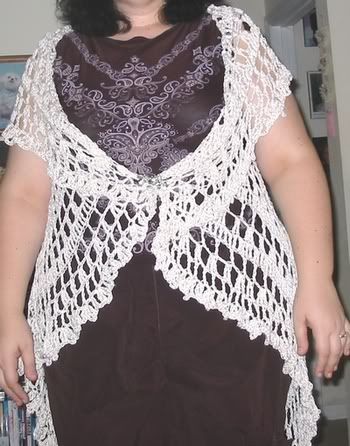 This is my Pineapple Shawl! It's actually a doily pattern that I converted into a shawl by simply using larger yarn and a larger hook. I used Bernat Softee Baby and a size J hook. This one also gave me a few troubles but after getting through a couple of tough rounds it came together nicely.