A few FO's!
Yes I know, I have been lax with my blog lately... Ok, so I've been very busy and have actually completed a few very nice things so here they are!!!
This was made for one of our engineers at work. He and his wife just welcomed their 2nd child into the world a couple of weeks ago, a little girl. I actually made this out of odds and ends of baby yarn and think it turned out lovely. It's a basic shell pattern and I got it from CPC. I believe the pattern name was something like 5 day newborn blankie or something like that.
Here's a close-up of the stitches:
This one I just love! It's actually a pattern for a chair back and I stumbled across it on Ravelry and someone else had decided to take the pattern and instead of a little hook and thread, she used WW yarn and a larger hook and came up with a shawl so I decided to give it a try! It only took me about 48 hours to complete it and I just love it! I had some baby yarn in my stash and used that. I think it actually would look better all one color and it shows off the pineapples better when I'm not wearing white underneath it but at least you get the idea! This is the back view: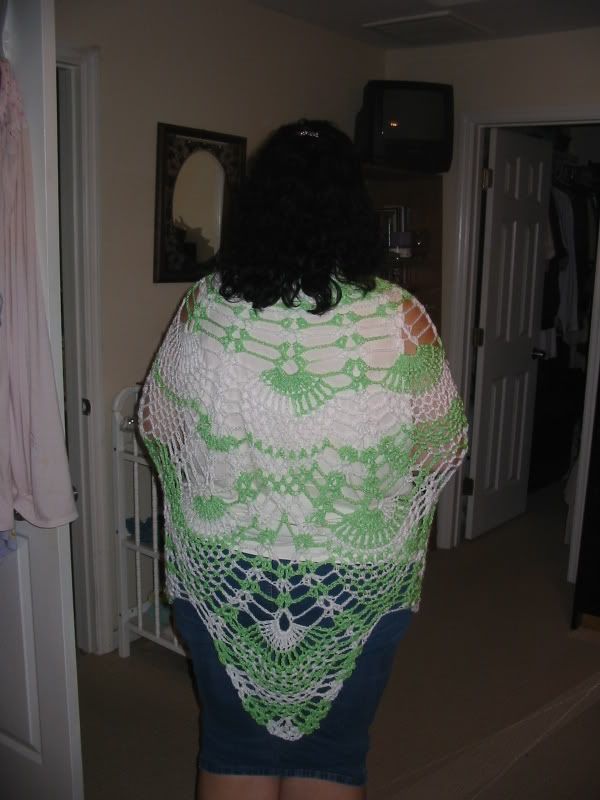 And the front... I used a nice pin to keep it closed during the day. It's nice at work to keep the chill off my shoulders!
And finally a one skein project that worked up in a couple of hours. I got the pattern from the latest issue of Crochet! and used a skein of Red Heart Rasta I think... I made it for Weight Watchers... Our WW group at work's leader always takes our name tags, puts them in a bag at the end of each meeting and draws a name for a prize. Well, she always forgets to bring a bag so every week she has to go into the cabinet and take apart a brand new package with the books and stuff in it to get a drawstring bag out just to draw names and I thought, geez, it's nothing to make a little drawstring bag. So I made it for her and she was tickled pink! I love the colors of that yarn but I swear it's made with bits of straw or something. It's the harshest feeling yarn I've ever felt...