My Sampler Stripes Ghan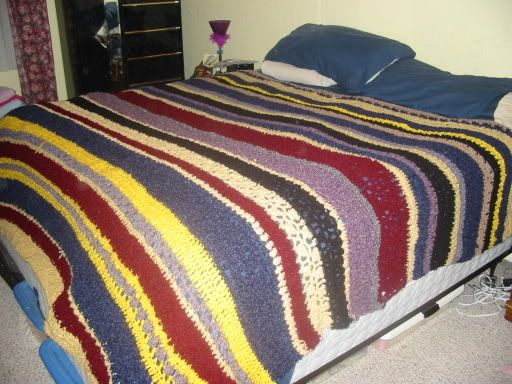 I actually made this a few months ago but realized I never shared it on my blog so here goes. I made this as part of a CAL over at Crochetville. It was meant to be a scrap ghan (I had a bunch of Bernat Soft Boucle left over from a previous project and decided on this yarn) but it turned into a much bigger animal. As I started stitching this monster I realized that I wanted to make it big enough to cover our king sized bed so I ended up buying an additional 3-4 skeins to finish it. If you've never cuddled with an afghan made with this yarn you are missing out. Not only is it incredibly soft but it's super warm. In fact, it's so warm that I am only able to use this ghan during the winter months.
I made this in I believe about 2 weeks time (I'll have to double check that) but it worked up fairly quickly and is one of my favorite ghans. I have since made a throw with this yarn for my dad and am currently making another ghan with this yarn for my step-sister who has taken possession of my dads. I'm making hers a ripple one with 3 colors changed every 2 rows. I was lucky enough to get 6 skeins of this yarn at Hobby Lobby on clearance for $1.50 a skein! I guess they were fazing out some colors but what a great deal!
P.S. If you've never worked with Bernat Soft Boucle before let me give you some tips. Use a larger hook (at least a J) as the stitches are very hard to see and this yarn does NOT frog well. Also, use this yarn for projects where the stitches don't need to be shown. If you're looking for stitch definition this is not the yarn to use. However, if you need a quick ghan this is the yarn to use. You can make a nice throw in just a few days.